20 Fun & Easy Brain Break Ideas For Kids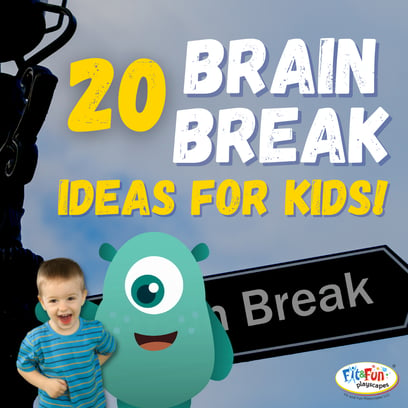 Brain breaks - by whatever name you like to call them - are incredibly beneficial for kids, whether you're talking about physical health, social-emotional health, academic performance, stress relief, or brain functionality.
In fact, an August 2016 study, spearheaded by psychologist Kerrie Godwin and her team, found that on-task behavior actually declined among students as instructional periods increased from 10 to 30 minutes but remained high when instruction was given in blocks of 10 minutes instead. Of equally important note, a 2013 study found that physically active lessons in the classroom helped increase time-on-task behavior and attention span in school-aged children.
So why does all this matter? Simple, really: teachers and educators should be trying to incorporate movement-based brain breaks in the classroom if they really want to get the most out of their students' brains.
To assist, we've created a list of 20 fun brain break ideas for kids that are guaranteed to help them re-center and re-focus when they need it the most. We've also broken the categories down by type, such as active, social-emotional, and creative, to help fit any classroom or situation. Check out our list below!
Active Brain Break Ideas
1. Stretching
Stretching is an easy physical brain break idea that can be done right next to the students' desk. Simply have your students stand up, reach above their heads, touch their toes, move their hips in a clockwise and counter-clockwise rotation, or have them sit and stretch their hamstrings, glutes, quads, and calves. Spend five to 10 minutes stretching, depending on your classroom's individual needs.
STRETCHING Exercises Home Workout via Bobo P.E. on YouTube
2.
Ball Toss
The ball toss is a super simple but infinitely repeatable activity you can do with a soft rubber ball, bean bag, or hacky sack. Try giving your students five minutes to hacky sack, or toss the hacky sack back and forth between groups of students. If you have a rubber ball, or even a rubber band ball, you can have your students bounce the ball as well.
Don't know how to hacky sack? Check out this awesome post from howtheyplay.com
3. Jumping Jacks
Who doesn't like to do jumping jacks? Like stretching, jumping jacks require no equipment and can be done right next to a student's desk. Try doing two sets of 10 jumping jacks, then assess your students' attention. If you feel they need more, try another set. The key is to get their brains re-focused and their hearts beating without getting them too riled up or sweaty, because let's face it: a classroom full of sweaty students isn't a great place to be.
Want to make the lesson more interactive? Check out "How to do Jumping Jacks" via Kid Explorer on YouTube.
4. The Big Four: Lunges/Planks/Push-ups/Squats
The big four - lunges, planks, push-ups, and squats - are guaranteed to get the blood flowing at virtually any grade level. Best of all, you won't need any weights - body weight will do just fine. Try doing one full rotation of five each - five lunges, five planks, five push-ups, five squats - then re-assess your students. These exercises can be done at the desk, but if you'd like to separate them from the desk, try having your students form their desks into a circle, then gather in the center and perform the exercises there.
5. Dance Routine
Dance routines are super easy to find on YouTube or on your favorite search engine - there are hundreds of thousands of them - and they also make for easy and fun brain breaks. The dancing gets kids up and moving, while the change in stimuli (such as following instruction on a screen as opposed to sitting at their desk) helps reset their brains and refocus their attention.
KIDZ BOP UK has a fun dance routine you can watch on YouTube!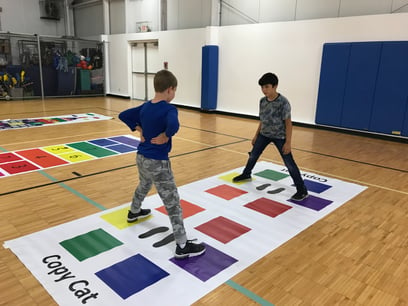 6. Copy Cat
Copy cat is an easy active brain break idea that combines active play with memorization skills. You don't need any equipment for this exercise - simply place your students in pairs and have them mimic one another's movements. Have one student take the lead for half the time, then the other for the second half. You can also combine this activity with dance for a fun spin on the popular Dance Dance Revolution! game.
7. Simon Says
Simon Says is another game that combines different types of skills; in the case of Simon Says, active play and listening skills. The key distinction in Simon Says is listening for a specific prompt (the key words Simon says) before performing the activity. Use an online "Simon" or be the Simon yourself!
Wondering how to play? Check out this resource from The Genius of Play.
8. Balloon Games
There are dozens of games you can play with a balloon - so why not add some balloon games to your brain break routine? Try playing common active games like volleyball, basketball, or ball toss with a balloon instead of a ball, or simply play "Keep Up" with the whole class! You will be amazed at the different sensory opportunities adding balloons can bring.
PBS Kids.org has a great resource dedicated to balloon games.
9. Floor is Lava!
Lava! is a game where players must walk a path and avoid certain spots on the floor to avoid being "out." Often, these spots block the path forward, so players must use their problem-solving skills to overcome the "lava" and navigate the path to the end. Try giving kids objects they can use to cross the lava, such as a piece of paper, and use poly spots for the lava.
This particular activity requires a bit of planning, but the payoff can be huge!
Wondering how to play? Try parents.com's "4 Fun Ways to Play 'Floor is Lava' at Home."
10. Combine Them All!
Combining these active brain break ideas is an excellent idea as well, since you can mix and match the exercises as you'd like. For instance:
Take a 10-minute brain break involving one round of stretching, followed by two sets of 10 jumping jacks, then one rotation through the Big Four.
Take a 10-minute brain break involving a round of stretching, then eight minutes of ball toss.
Take a 10-minute brain break involving one set of 10 jumping jacks, six minutes of ball toss, then four minutes of stretching.
Take a five-minute brain break by combining a dance routine with copy cat.
Exercise Simon Says! Combine the "Big Four" with Simon Says for a fun 10-minute brain break.
Social-Emotional Brain Break Ideas
11. Yoga
Yoga has many benefits, such as reducing student anxiety and improving emotional regulation, strength, and flexibility. Yoga routines are also becoming more and more common in classrooms, so why not hop on the trend too? Be sure to try out different poses, such as downward dog, tree pose, star pose, and more, to add some variety to your routine!
Action For Healthy Kids has a great page dedicated specifically to children's yoga!
12. Mindful Breathing
Like yoga, mindfulness is another exercise that has become more common in schools, and for good reason - mindfulness is a powerful SEL tool for children of all ages and has many benefits. Mindful breathing, in particular, is a great way for kids to practice mindfulness, so try these different types of mindful breathing exercises for your brain break:
Breathe in, breathe out. This is the simplest form of mindful breathing. Simply breathe in, hold for three seconds, then breathe out. Take another deep breath, hold for three seconds, and then breathe out.
Deep Breathing. Simply breathe in as deep as you can, hold for three seconds, then breathe out all the air you can. There is no need to hold between sets; once you've exhaled all the air in your lungs, start again.
Breathing as is. Also called Shamatha breathing, this exercise is meant to connect you with the natural inhale/exhale of your breath. There is no special breathing method required - everything is natural.
Alternate Nostril Breathing. Inhale through your left nostril, then take your ring finger and close your left nostril. Exhale through your right nostril. After a few minutes, alternate to breathe in through your right nostril and exhale through your left.
A great explanation of five different kinds of breathing can be found via Everyday Health.
13. The Senses Game
The senses game is a fun little sensory-based activity where your students can explore their five senses. It combines mindfulness with the five main senses - sight, touch, taste, smell, and hearing - and allows your kiddos to re-center themselves at the same time.
Simply pick an item around the room, then have your kiddos identify that item with their eyes. Next, have them close their eyes and take a deep breath - what do they smell? Third, have them eat a snack and really taste the food. Let them think about it for a bit. Fourth, have them touch their clothes or any item nearby - what does the desk feel like? Is it warm, cold? How about their clothes? Is there something on their clothes, like a bead or a sparkle? Finally, have them close their eyes and listen to the sounds of the school building. Can they hear any unique voices?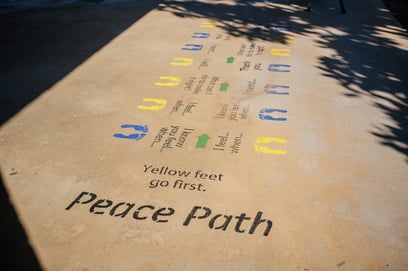 14. Indoor Peace Path by Soul Shoppe
The Peace Path by Soul Shoppe is an excellent social-emotional tool that is designed to stop conflicts before they happen. It comes as a playground stencil, but Soul Shoppe has also provided an excellent guide you can use to create your own peaceful brain break. Why not take a few poly spots (or pieces of paper) and walk through the Peace Path in your mind's eye? Set the children up in groups of two (or even larger teams) and guide them with Soul Shoppe's fantastic conflict resolution tool.
The Peace Path is also a great add-on to sensory pathways, sensory hallways, or sensory corners. For more info on sensory pathways, check out our blog post "Sensory Pathways: What the heck are those?"
15. Break the ice
Icebreaker activities are great for kids, even if you're in the middle of the school year. As you're well aware, not all your students in class talk with one another; some might even have issues making friends. Icebreaker activities are a great way to bring your class together and make friends with one another. It's also a great extension of the Peace Path.
Need inspiration? Try these 13 icebreaker ideas!

Creative Brain Break Ideas
16. Arts & Crafts
Arts and crafts are always an excellent brain break idea, especially after attention-heavy lessons like math and reading. Arts and crafts provide an opportunity for kids to really stretch their creative muscles, too. You won't need an art room for this particular brain break, either - a few pens, colored pencils, and construction paper will do just fine. There's no need to break out the messy paint or sticky glue!
Try these Easy, 10-Minute Crafts for Kids via The Spruce Crafts.
17. Coloring books
Coloring books are another great creative brain break because it provides some sense of structure while also allowing kids some bit of autonomy (based on the colored pencils they choose). Keep a stack of coloring books in the classroom and give your kiddos a five to 10-minute brain break to color. Try and provide a wide range of coloring book options, such as fantasy adventures, popular superhero characters, animals, buildings, landscapes, etc.
18. Journaling
Journaling is another excellent creative brain break idea. Buy a stack of cheap paper journals from your local arts & crafts store and have your kiddos put their names on them, then collect the journals after each journaling session. A journaling session needn't be long - five or 10 minutes will suffice - but it will give kids a chance to self reflect on their day. If your students need more hands-on attention, try providing them with a few writing prompts to get them started, such as these:
How was my day today? What is one thing I think I did a good job on? What is one thing I think I can improve for tomorrow?
What was the hardest lesson I learned in school today?
What was my favorite part of today?
What is one thing I'm looking forward to doing tomorrow?
What was my favorite classroom lesson today?
19. Play dough
Play dough is another excellent creative brain break (it also happens to be an awesome item for your sensory bin!). Keep a few containers of play dough and let your kids construct whatever they wish. Do they want to build a castle? Awesome! How about create a Play dough family? Cool!
20. Make a sensory bin
Sensory bins are incredibly popular among the occupational therapy community. They are becoming increasingly common in classrooms too. A sensory bin is a bin made up of various stimulating items, such as marbles, sand, rice, sticky animals, stress balls, corn kernels - anything really - and can be easily stored and used at will. Every classroom should have a sensory bin!
Little Bins, Little Hands has a great guide on how to create your own sensory bin.
Updated 3/24/2022