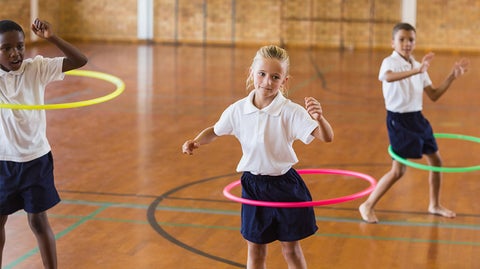 In the wake of the ongoing coronavirus pandemic and social distancing rules, Gov. Andrew Cuomo has warned that state aid for public schools could be slashed by 20%. The impact of these cuts will linger for years, particularly for those already hit the hardest: teachers, who are beginning to see job losses mount, and kids in poor areas, where schools often provide the only source of nutrition and/or safe physical activity for the day. One of the first deep cuts that school districts are making is in PE and physical educators are being left to wonder if they'll keep their jobs in the fall.
Many fear they won't.
In closed Facebook groups, many teachers, particularly those in PE, are revealing that they've already been cut, have been told they might be cut, or are facing a situation where their jobs are up in the air for the fall. Some are turning to contract work to make ends meet; others are waiting to see what happens. Those who aren't unionized are in even worse predicaments.
Here at Fit and Fun Playscapes, we've been supporting PE and physical activity for nearly 10 years. We've met hundreds of teachers and formed relationships with countless individuals, from college students to well-decorated professionals. That's why we're proud to state that we're joining with advocacy groups here in New York to help fight to keep PE in the curriculum this fall.
In-school instruction with physical distancing
Distance learning
Hybrid learning
Like many districts across the nation, Fit and Fun Playscapes has read these recommendations front to back, thinking about how schools can implement these strategies with minimal impact. As a company, our priority has always been to help schools bring physical activity anywhere and everywhere and for years have options that closely align with these kinds of strategies.

We've made it simpler to search and expanded our product line so there are more options to support the surge in need for socially/ physically distant activities that require no equipment and are touch-free. We have options indoors and out, at home or in school. Here are the most popular options: