PE Ideas - Tyrone Elementary
With kids getting more and more screen time each and every day, breaks for physical activity are becoming more and more important. But how to get kids engaged in activities that teach life skills and promote physical activity? Some schools are turning to low-tech, high-energy alternatives reminiscent of yesteryears. But with a total update. Large scale, colorful games that bring diverse physical opportunities for physical education classes and recess areas.
Tyrone Area Elementary School in Tyrone, PA is one example of hundreds of schools across the country redesigning their recess areas to double as places to support physical fitness and activity. After an installation of games from Fit and Fun Playscapes including, hopscotch, four square, bullseyes, kickball, mazes and shape stations and using a vivid color palette at the school's blacktop, PhysED teacher Robert Drager is integrating the new activities and lessons with his students. "This school year, we took a step away from our normal beginning lessons to teach all our students about the different games and activities that are available out on the playground," says Drager. "These activities bridge the gap between the structured aspects of physical education classes and the choice-driven fitness activities of recess," Drager explains. "This all melds together to provide great opportunities for our students to be active."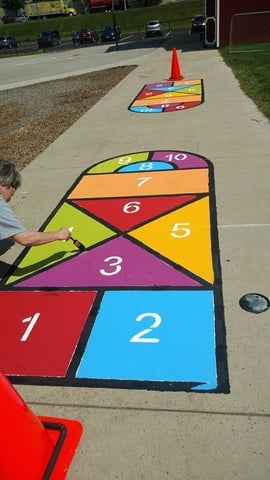 Drager's students have Physical Education class twice every six school days for 45 minutes but students also have access to the games at recess, after school and on weekends. During class time, he engages his students on how to play each of the stenciled games on the playground. "Our playground is vibrant, exciting and a fun place to play." says Drager. "It is great that our students have so many choices of activities on our playground now. Not only does this mean there is something for everyone, but it [also] is a safe place for our students to learn about life skills, like decision making and working with others. The playground is an amazing place and time for our students to be given the opportunity to put these skills into action."
Fit and Fun Playscapes is a national retailer of large game stencils, specializing in games that promote physical activity. With over 50 designs and a dozen packages, they offer inexpensive, easy-to-implement fitness and pro-socialization opportunities that engage all kinds of kids. From hopscotch to chess, and basketball to yoga poses, they have what you need to keep all students active. They are revolutionizing recess and Physical Education class by creating colorful, affordable and engaging designs that schools love.