The Three Best Physical Benefits of Recess (Redefining Recess)

WHAT IS RECESS?
According to the CDC (Centers for Disease Control), recess can be defined as "a regularly scheduled period within the school day for physical activity and play that is monitored by trained staff or volunteers."
In other words, any daily activity that gets children up and moving can be defined as recess, whether it be hopscotch, outdoor sporting activities like kickball or soccer, or aerobic exercises like yoga.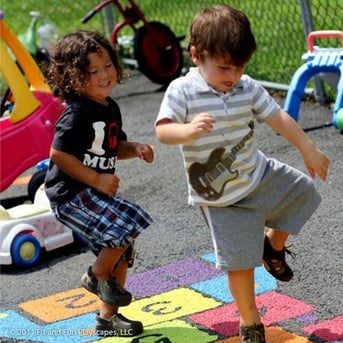 WHY IS RECESS IMPORTANT?
In their 2013 study, "The Benefits of Recess in Primary School," Dr. Anthony D. Pellegrini and Dr. Catherine M. Bohn-Gettler state, quite plainly, that "Research documents [show] that recess affords many physical, cognitive, and social benefits for primary school children. These benefits have a positive effect on classroom behavior and achievement."
THE THREE BEST PHYSICAL BENEFITS OF RECESS
1. RECESS ALLOWS KIDS TO PRACTICE IMPORTANT MOVEMENT SKILLS
It's no secret that recess allows kids to practice and improve upon important movement skills like running, walking, throwing, or kicking. Many of these important movement skills are best developed during recess because of the mix between structured and unstructured play.
According to the Robert Wood Johnson Foundations "Recess Rules" document, recess "is the single most effective strategy for increasing physical activity among children."
2. RECESS DEVELOPS FINE MOTOR SKILLS
In addition to practicing important movement skills like walking, throwing, or kicking, recess also allows children to develop fine motor skills like balance and spatial awareness.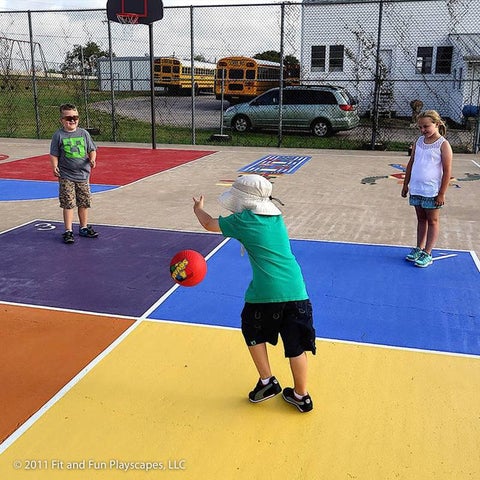 As we discuss in our Recess Resource Center, it's important to provide different types of games and play experiences for various sorts of children. As we state:
"Diversity of games is also important. It's necessary to include all types of recess games available on the playground, since there are all types of kids: some games for mindfulness and wellness (like mindful movements and nutritional graphics), educational games (like chess, math or alphabet games), fitness games (like an agility ladder or four square) and sports games (like a basketball court key or kickball area) ensure a well-diversified playground that can be used for a variety of needs. Boredom breeds bullying and no one wants that!"
3. RECESS HELPS LOWER CHILDHOOD OBESITY
Childhood obesity is on the rise. Recess can help.
According to a Jan. 2013 policy statement published in the magazine Pediatrics, daily physical exercise also helps fight childhood obesity.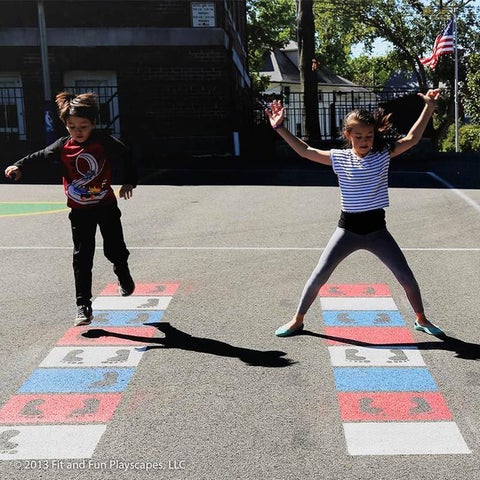 "Although not all children play vigorously at recess, it does provide the opportunity for children to be active in the mode of their choosing and to practice movement and motor skills," wrote the American Academy of Pediatrics (AAP) in the policy statement. "Importantly, recess affords young children free activity for the sheer joy of it. Even minor movement during recess counterbalances sedentary time at school and at home and helps the child achieve the recommended 60 minutes of moderate to vigorous activity per day, a standard strongly supported by the American Academy of Pediatrics (AAP) policy, which can help lower risk of obesity."
Recess is an excellent way to ensure that children, specifically young children in the elementary school age range, get their recommended 60 minutes of daily physical exercise.
CONCLUSION
The physical benefits of recess really are substantial, and it is past time we "redefined recess" in schools.
For ideas on how you can bring a better recess experience to your school, read the recent "Recess Planning In Schools: A Guide to Putting Strategies into Practice" document, published in January of 2017 by the CDC and SHAPE America.
------
Originally published 6/2018