Turn Your School into a Positive Place Kids Love Using Stickers and Reusable Stencils
Let's do a little thought experiment.
Imagine asking one of your students — any student — where they'd rather be on a weekday. What would they say?

If you guessed that school won't top the list of their favorite places, you're probably right.
One reason for this has to do with studying and discipline. There's no getting around that.
However, another reason could be the atmosphere of the school. Now, this you can work on, and it's easier than you think.
A few stickers and reusable stencils are all you need to turn your school into a positive place kids love.
The Importance of a Positive School Environment
At a minimum, schools must provide safe, clean, and comfortable physical environments. But if you want children to learn and develop optimally, you need to do better than that and create a learning environment that's also positive.
Multiple studies have shown a strong correlation between facility quality — which includes design, decor, and aesthetics — and:
Academic outcomes
Student behavior
Unfortunately, school leaders often neglect this aspect of environment design due to tight budgets, time constraints, understaffing, and competing priorities.
But it doesn't have to be this way.
There are quick, simple, and cost-effective ways to make your school a better place and create a positive environment for students. Reusable stencils and stickers are probably the easiest (and most fun!) of all.
6 Ways to Turn Your School into a Positive Place with Stickers and Reusable Stencils
Here are some of our favorite stickers and reusable stencil patterns for creating a positive school culture and learning environment:
1
.

Paint Words of Inspiration on the Ground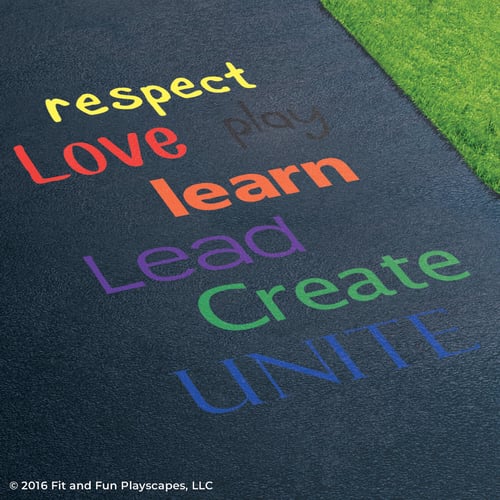 Transform your school grounds by painting positive quotes and words of affirmation on outdoor surfaces. This is a great way to not just lighten up kids' moods but also help them build healthy and positive thinking patterns.
Ask students to pitch and vote on their favorite quotes, or use our Inspirational Words Reusable Stencil to save time.
2. Put Up Yoga Stickers on the Walls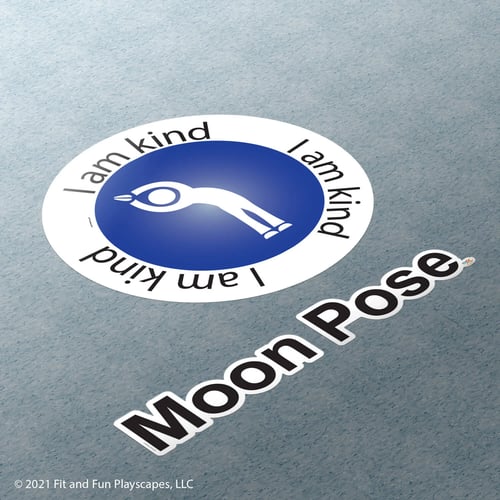 We could all use a stretch or two as we go through our day. This is where our Tree Pose, Moon Pose, Star Pose, and Downward Dog Super Stickers® come in. They gently prompt kids to pause, stretch, take a deep breath, and say a positive affirmation on their way to class or during recess.
As a bonus, stickers enable you to spice up the walls and make the most of underutilized vertical surfaces in the school building. Few things are more discouraging than a bare school hallway!
And if you'd rather have your yoga poses on the ground, check out our Mindfulness & Kindness Reusable Stencil Package.
3. Create Playground Buddy Circles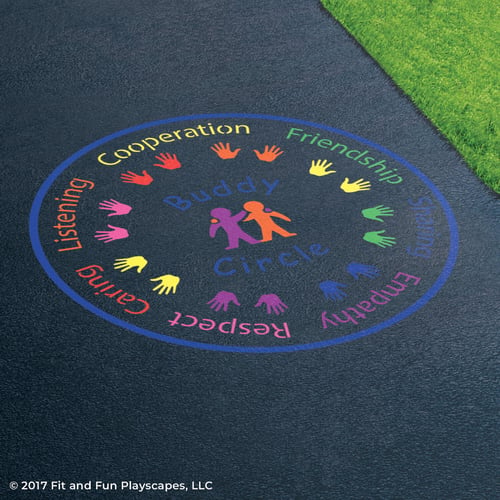 Buddy Benches are amazing tools for encouraging children to seek and show empathy and making outdoor play less lonely. However, benches also take up a lot of space and can be tricky to set up.
If you're short on space or don't have the time to assemble, paint, and install a whole bench, our Buddy Circle™ Reusable Stencil is just what you need. It's a space-saving, budget-friendly, and hassle-free alternative to traditional Buddy Benches.
4. Paint a Community Togetherness Design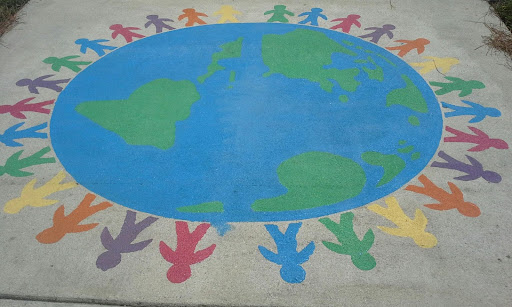 Our Community Togetherness Reusable Stencil is an excellent aid for teaching young children the importance of diversity, teamwork, and positive leadership. Have the kids stand around the pattern holding hands as they play a collaborative game or work out the solution to a problem together. This helps create a climate of respect in the classroom and on the playground.
5. Use Visuals to Help Kids Understand Their Emotions
Children in school often struggle with emotional regulation. And no wonder — the classroom environment can be overwhelming even for older kids.
Luckily, you can equip your students with tools to help them identify, accept, and manage their emotions throughout the school day.
Our Face Your Feelings™ Super Stickers® help students, teachers, and staff identify how they're feeling. This first step in regulating the wide range of emotions each person may feel is fantastic for check-ins and check-outs and can be adhered to the floors or walls.
6. Build a Sensory Pathway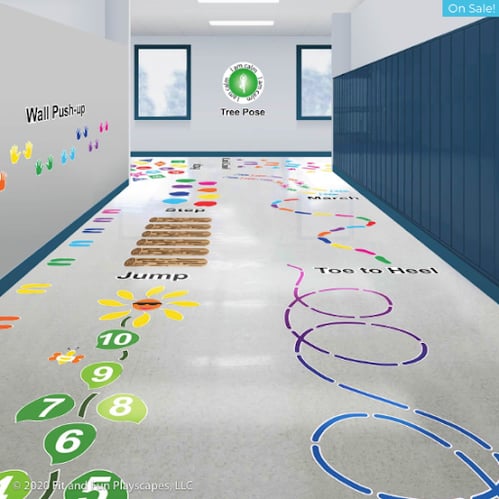 Sensory pathways pack a punch. They get kids to:
Movement and sensory integration also lead to improved school performance and student health, and self-regulation skills contribute to a positive learning environment. Alongside this, sensory pathways may also be used to create Calming Corners. Check out how we designed ours!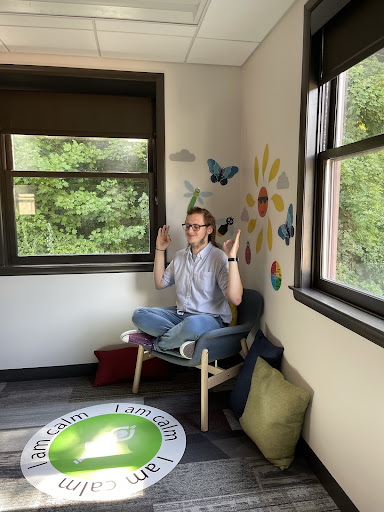 To build your own sensory pathway, check our Nature Sensory Pathway Super Stickers® and Nature Motor Sensory Pathway Reusable Stencils.
Looking for More Ways to Spread Positivity in Your School?
Whether you want to improve academic outcomes, reinforce positive behaviors, or create a climate of respect, we have many more tips for building positive school culture.
Schedule a free, no-strings-attached consultation with our in-house experts to tell us about your needs and discover more ways to turn your school into a positive place.