Can A Child With Developmental Delays Catch Up To Their Peers?
Long story short: YES!
The data is pretty clear on this: most children with developmental delays can, and will, catch up to their peers as they age. Most developmental delays, according to WebMD, are not serious developmental delays, and can be easily treated - especially if the child has access to treatment early on in childhood, such as physical therapy, counseling, and specialized programs in school. But, as with all complicated medical topics, the real answer is closer to the one nobody likes to hear:
"It depends."
Join us as we dive a little deeper into the extremely complicated topic of developmental delays.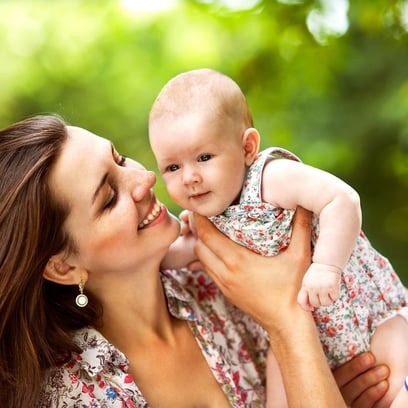 What are Developmental Delays?
Developmental delays are not really well-defined, so they generally refer to any sort of impediment in speech/language, motor skills (especially fine motor skills), social/emotional, or cognitive skills that a person may experience. Both children and adults can experience developmental delays.
According to the authors of a 2019 study, titled "Motor Competence Levels and Developmental Delay in Early Childhood: A Multicenter Cross‑Sectional Study Conducted in the USA," roughly 77% of all 580 children surveyed in the study (2010-17) qualified as being "at risk" for a developmental delay.
Developmental delays remain a difficult topic to discuss, as there is no standardized definition of a "developmental delay." Different states in the United States use different definitions of a "developmental delay," meaning that children who actually do have some form of developmental delay may not get the treatment they need, or that children who are just a little behind are misdiagnosed. Beyond the United States, in Europe, the definition of a developmental delay is again different.
Even more complicated, different developmental delays have different windows for when a delay should be classified as a delay. For example, children start speaking at around the same time, but "around," in this sense, occupies a period of one or two years. By three years of age, most children can speak in short sentences. By four years, most children will start using identifiers properly (such as "me" and "you"). So, if a child doesn't start speaking in short sentences until age four, does that mean they have a developmental delay? Not necessarily.
If you're confused, you're not alone. That's the problem.
20,000 Diagnoses under a Developmental Delay
The lack of a standardized definition means, for some experts, what constitutes a delay is different than that of another expert. Even more notable, what constitutes a "substantial delay" from a "mild delay" is generally left up to the opinion of the practitioner, leading to wildly different (and sometimes clashing) interpretations of the data on how many kids are actually experiencing a developmental delay, or if they just happen to be a little late.
In fact, just about the only thing experts agree on is that the number of developmental delays are skyrocketing - particularly gross motor developmental delays - and have worsened during the COVID-19 pandemic.
So... can children with developmental delays catch up to their peers?
Generally, yes. But until a uniform definition is adopted on a national or (better yet) worldwide level, the only appropriate answer will always be "it depends."
In our mind, that isn't an acceptable answer.