Active Sidewalks: How Sidewalk Chalk Art Can Promote Play In Your School
As schools emerge from the COVID-19 pandemic, communities are recognizing the need to continue to provide safe, versatile, and inexpensive ways to offer more outdoor fitness options for kids. Active Sidewalks, in conjunction with sidewalk chalk art and Reusable Stencils, have emerged as the perfect blend of affordability, engagement, and enjoyment in schools and communities.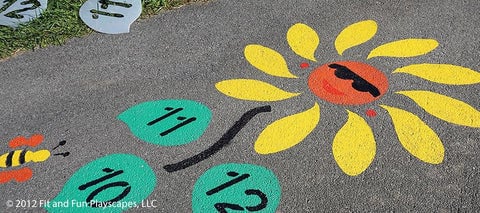 Active Sidewalks
are a series of movements and patterns that work gross motor and sensory skills and are either painted, traced, or chalked on a sidewalk.
Combining our advocacy for active play and our love of the creative artistry behind sidewalk art, we created a term called "Active Sidewalks," a combination of amazingly designed outdoor chalk games that stimulate kids' brains in a space that doesn't often get utilized - the sidewalk.
Sidewalk chalk art isn't a new concept - how many times have you been scrolling through your news or Twitter feed and found an awesome 3D creation that an artist drew with chalk on a sidewalk? Probably more than once. Now imagine if we could take some of our favorite outdoor games, like four square, hopscotch, or copy cat, and translate those movements into an amazing set piece of stencil art for kids in our schools and our communities. That's what Active Sidewalks aim to represent.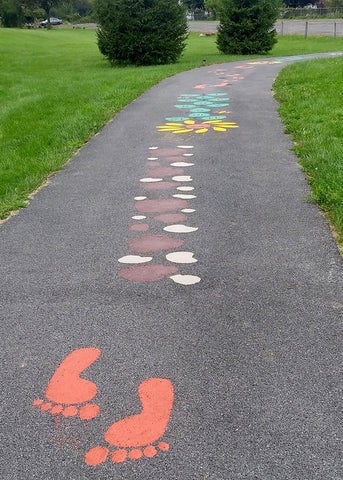 What is Active Design?
The term "active design," and how it can be applied to sidewalk chalk art and Active Sidewalks, can best be explained in full in a 2013 NYC-based report titled "Active Design: Shaping the Sidewalk Experience."
A shorter definition, however, can be found from the Center for Active Design, a leading non-profit organization using design to foster healthy and engaged communities, which states that "active design [equals] evidence-based design, development, and operational strategies to support healthy communities."
In other words, active design is a building strategy implemented in urban and suburban areas designed to increase and support healthy living among their residents.
In more detail, however - and, explicitly, in regards to Active Sidewalks - active design can be used to engage communities in ways that bring their physical and mental wellbeing to the forefront.
Childhood Obesity
At Fit and Fun Playscapes, we've talked at length about the rising rates of childhood obesity in the United States. In June 2020, we published a piece on our blog, titled "Childhood Obesity: Where Are We Now?", that provided a few statistics we found alarming:
A 2016 study

found that between the fall of kindergarten and the spring of second grade, obesity increased from 8.9% to 11.5% among kids.

In 2018, the CDC (Centers for Disease Control) found that one-in-five children in the United States is obese.
None of these statistics paint a particularly rosy picture: children are becoming more and more unhealthy as they eat more sugary foods and live increasingly sedentary lifestyles. Sometimes, lack of public education funding is to blame; other times, economic hardship at home. It can be tough to pin down the exact cause of these alarming statistics of childhood obesity when it's more likely, in the words of Huffington Post writer Elizabeth Millard, "like fighting a hundred infections at once and trying every medication you've got, hoping something sticks."
The point: it's complicated. We'd like to make it a little simpler.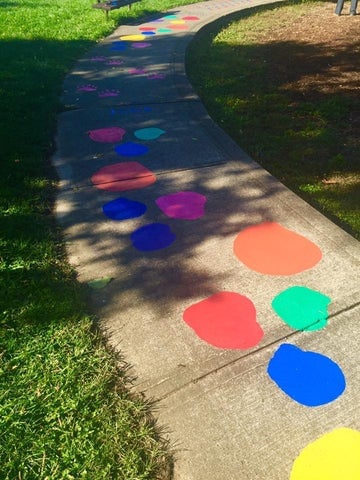 Active Sidewalks & Chalk Art: How "Chalk the Walk" Can Help

Active Sidewalks sometimes go by the name "Chalk the Walk" and tend to feature sensory-specific movements like hopscotch, cross midline, tightrope, etc. The easy accessibility of Active Sidewalks allows them to be integrated within an existing, or planned, active design framework with a minimal number of changes - especially if chalked as chalk art or spray paint stencils, since they can be washed away with water.
Chalk art, in particular, brings the ease and accessibility of Active Sidewalks into an entirely new space. Specifically, many of the common movements found in a typical active sidewalk space can be used to create amazing pieces of stencil art for kids - like a butterfly stencil on a backdrop of cerulean-violet flowers and vibrant green grass - on nearly any public space or active design project!
Some of our existing Reusable Stencil products, like the Nature Motor Sensory Pathway and Activity Circuit packages, have already been implemented into outdoor spaces utilizing themes of active design - such as in parks and community centers. For example, the Takoma Park, Maryland-based "We Belong Here" Equity Walk!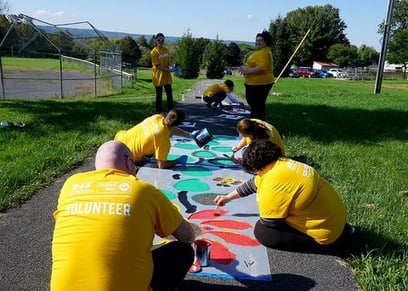 Conclusion
As the US population becomes more and more sedentary, the need for active design spaces utilizing Active Sidewalks and sidewalk chalk art will grow. Sidewalk chalk art allows kids, adults, and the elderly to live an active lifestyle by encouraging them to move their bodies and engage with an Active Sidewalk space where they might normally avoid long walks. Placing spray paint stencils or chalk stencils in outdoor public spaces, even if only temporarily, can have incredible positive benefits for the health of the surrounding community as a whole.
Active Sidewalks, and their counterparts in active design, are the future - we really believe that.
---------------------------------------------------------
Have you heard of active design or active sidewalks? Do you have any plans to implement any of these concepts into your school or community? Let us know!
Updated 3/25/22