10 Best Sidewalk Chalk Art Ideas For Back To School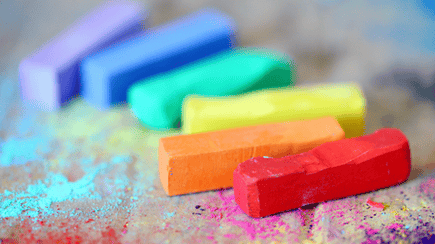 Do you remember drawing with chalk on your sidewalk or in your driveway when you were younger? Do you have any chalk art ideas you would like to try for yourself?
Have you walked by sidewalk chalk art in your neighborhood or seen kids playing with chalk in the schoolyard? Maybe you've seen easy chalk art that kids drew in a playground area, like hopscotch or four square (boxball) - or maybe you've encountered much more intricate pieces of sidewalk art, like these.
Whether you've seen simple chalk art pieces in a driveway or visited a festival or competition for the best chalk art design, you probably have some knowledge of all the awesome things you can make with a little chalk.
But how about educational chalk games for kids going back to school?
It's already pretty well-established in the educational community that recess leads to better academic test scores and higher overall wellbeing in children. It's also fairly common knowledge that kids need to spend more time outdoors than they're currently spending. So we thought, why not combine sidewalk chalk art and recess for an awesome classroom break?
From that thinking, we scoured the internet and found 10 of the best sidewalk chalk ideas for your kids as they head back to the classroom! We tried to stick with easy chalk art examples, so you don't need to be an experienced artist to make the most of these activities.
FYI: these are in no particular order!
Keeping It Simple Crafts came up with this awesome mosaic sidewalk art piece that looks like an amazing activity for teachers and students. Best of all, all you'll need to complete the project is some sidewalk chalk and tape!
Kaysi suggests using crushed chalk paint for the project.
You can find a step-by-step video walkthrough over on Keeping It Simple Crafts!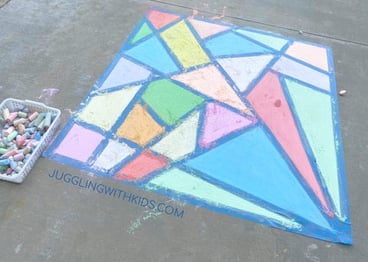 Juggling With Kids offers a great chalk art activity for kids with their stained glass idea. All you'll need is sidewalk chalk and some painter's tape to get started.
Akane Everitt, the founder of Juggling With Kids, decided to use the stained glass geometric pattern idea and create an awesome butterfly!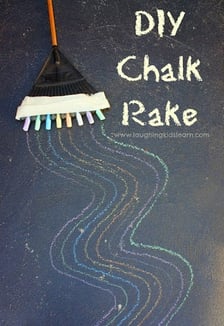 Laughing Kids Learn has a way to ensure kids both laugh and learn - with this super-cool do-it-yourself chalk rake! You'll need a standard garden rake, some jumbo chalk, and sticky/masking tape. PLUS, you'll need adult supervision at all times!
Kate of Laughing Kids Learn says that using her DIY chalk rake is an awesome way for kids to build upper body strength, get creative, and write! As a primary school teacher with over 10 years of experience, we think Kate knows a thing or two about what she's saying!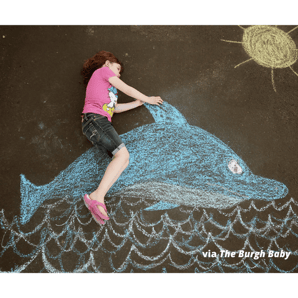 A great idea for elementary school-aged kids! The Burgh Baby brings artistic life to the playground/sidewalk with a super awesome dolphin-themed chalk art piece. It's the perfect recess idea for taking fun photos, or as a classroom activity!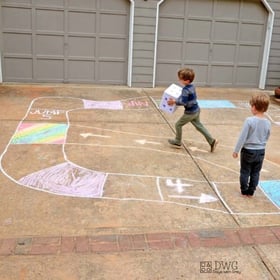 The blog Days With Grey created this fantastic outdoor chalk game for kids in their driveway! This particular chalk DIY game board is a great way to involve other kids in a school, classroom, or at recess too! Best of all, the chalk games work gross motor skills and help with number recognition - great for younger age groups!
All you have to do is follow the instructions provided over on their site, and presto! You've got an awesome motor-skills based activity that's cheap and easy to make again and again. It's sort of similar to another popular concept - a sensory pathway!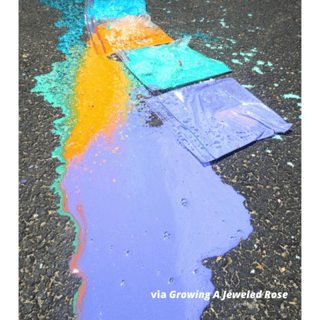 This one's pretty unique, but that's why we love it! This exploding chalk recipe from Growing A Jeweled Rose is quite hands on and definitely requires adult supervision, but it would make quite a splash (literally) for any outdoor activity.
You'll need a few items for this one - corn starch, plastic Ziploc baggies, vinegar, baking soda - but no chalk! Follow the directions and have a blast.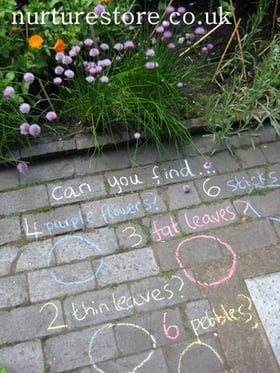 Sidewalk chalk art meets nature meets scavenger hunt! This awesome idea from Nuturestore in the United Kingdom combines the flexibility of chalk with a little learning. Simply pick out a few select flowers, plants, trees, etc., in a garden or park and have the kids find them!
If you're able to supervise the children closely and don't live near an area with dangerous plants or objects, have them gather a few of the items and bring them back. The winner of the scavenger hunt gets a prize!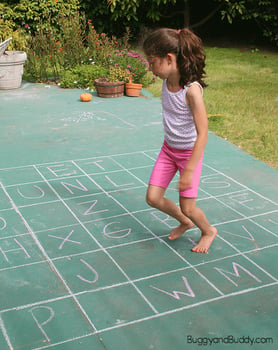 Practice gross motor skills and those ABCs with this awesome hybrid chalk game that can be made in the schoolyard, on a sidewalk, in a driveway, or virtually anywhere with blacktop space. Best of all, this ABC sidewalk chalk game is super simple and easy to recreate. You'll just need some chalk and a yardstick, plus maybe a few creative ideas or two to really turn your blacktop area into a fun place for kids!
We highly recommend this one for all you creative DIY educators out there!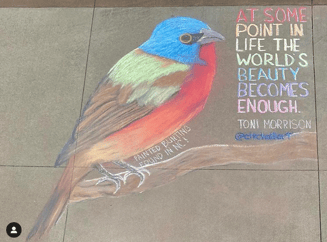 For those a little more artistically talented (unlike us!), @cltchalkart on Instagram does amazing work creating wonderful art on the sidewalk. Whether inspirational or motivational quotes, logos, landscapes, social justice, or just cool works of sidewalk art, @cltchalkart does it all.
Look HOW AWESOME THIS STUFF IS!!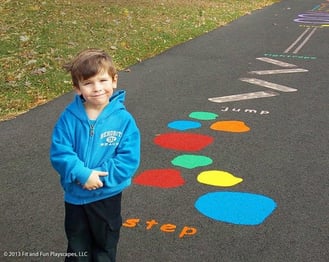 Sidewalk chalk art is amazing because of how little is required to make amazing, fun, and engaging activities on virtually any sidewalk space. However, unless you're using something like spray chalk specifically designed to be semi-permanent and not wash away with water, you're going to have to redraw everything pretty much with every use.
That's where our Reusable Stencils products come into play. Designed specifically for school districts (each stencil set comes with a 10-site license, which means you can paint our playground stencils at up to 10 different schools without needing to notify us), our Active Sidewalks campaign brings the power of permanent sidewalk art and combines it with sensory and gross motor learning for an amazing experience.
Contact us if you'd like to find out more! Or, check out our other blog post, "Top 10 Reusable Stencils You Can Paint Right Now," for some inspiration.
***
What are your favorite activities to draw with chalk? Let us know in the comments!
Updated 3/24/2022