YEAR IN REVIEW 2020
As the winter holiday approaches, it becomes that time of the year again here at Fit and Fun Playscapes. It is hard to believe yet another year has come and gone -- and boy, what a year it's been – since we last took some time to reflect on all that we've accomplished over the past year. But that time has indeed come once again.
2020 has been a year for the history books -- not just for Fit and Fun Playscapes, but the planet as a whole. This year brought a once-in-one-hundred-year health crisis, the COVID-19 pandemic, that ravaged the way we socialize, do business, and function as a society, ushering in a "new normal" that's likely to stick around for a long time. And just like every other small business, Fit and Fun Playscapes had to adapt to this new normal and learn to thrive in unconventional ways.
Despite the pandemic and near-unrivaled social/economic strains, Fit and Fun Playscapes has, just like last year, participated in so many incredible projects and met so many new, wonderful people that we still have plenty to be thankful for.
PROJECTS
The Fit and Fun Playscapes Free Resources Page – The Fit and Fun Blog
When schools first began to shut down in March – and the signs began pointing to a long, sustained pandemic – Fit and Fun Playscapes leapt into action to try and help teachers/educators through the worst of it by creating/developing a bunch of new resources they could use free of charge. In addition to providing K-5 resources like coloring pages, healthy habits checklists, and word searches, our free resource page also provides links to Scholastic, Control Alt Achieve, the New York State Department of Education, and more!
We got a lot of great feedback from teachers on this particular resource. We were so glad to be able to organize and provide these resources when the pandemic had just begun and there was no end in sight.
DIY Sensory Pathway – "Sensory Patio Path"
This particular project was a quickie, but a goodie! At the outset of the COVID outbreak, our Founder/CEO and her young son created a "sensory patio path" together in her backyard to show how quickly a DIY sensory pathway could be set up. She took common items from around her household – a garden hose, bricks, firewood, etc. – and made a one-minute video showing it off on our YouTube channel.
"Project Fit & Fun" – Jordan Rasmussen, Girl Scout Gold Award Project
The Girl Scout Gold Award is one of the highest honors a Girl Scout can receive, and as a scouting family ourselves, Fit and Fun Playscapes was ecstatic when we were contacted by Jordan about her project. Our Founder/CEO has three boys in the Scouts – the oldest, an Eagle; the middle, an Eagle candidate and the youngest, a Cub – so we are always excited to help the Scouts.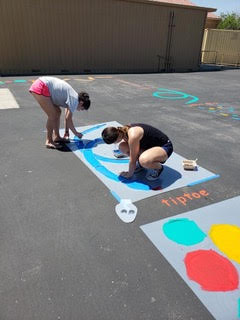 Jordan decided to do her Gold Award project in her own school district – the district she grew up in – by bringing the power of active play to an elementary school in a low-income neighborhood, where she had ties to the principal.
The elementary school, Jordan explained, had a huge blacktop area that was totally empty.
"The goal of my project was to target the kids who have a hard time staying focused in class. I created an activity course for the kindergarteners, first, and second graders on the blacktop at Beardsley Elementary School, a school in my district," she told us.
Jordan achieved this goal by using the Fit and Fun Playscapes Nature Activity Circuit playground stencil!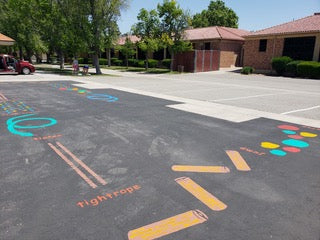 Jordan told us that the project was made even more difficult by the COVID-19 pandemic because social distancing measures prevented the team of volunteers she assembled to paint the project from, well -- assembling. That meant that just her and her mom went out to the blacktop to paint the stencils. After three separate rainstorms pushed her paint day back again and again, Jordan and her mom were finally able to paint the playground stencils on the fourth try.
But even after all these challenges, one final one remains in Jordan's way – a challenge she may not have the ability to overcome.
"Jordan hasn't gotten a chance to see the kids view the stencils," her father, Jeff Rasmussen, told us.
Jeff went on to tell us that Jordan has not been able to really feel "that fulfillment" she really deserves after working so hard to paint the blacktop area for the kids of that elementary school. He and Jordan both fear that the opportunity to witness the kids seeing the new play area for the first time will never happen, leaving a bit of a hole.
Boy Scout Eagle Award – Rene Reyna
Rene Reyna, a Boy Scout from Texas, also completed his Eagle Project towards the end of the summer using Fit and Fun's stencils. Rene approached Serna Elementary School, which serves a socio-economically challenged segment of the community and assists children with learning disabilities. When he was developing his Eagle Project concept last year, Rene asked one of the school administrators if there were any other projects she had in mind. She mentioned that she really wanted to give their students in their learning center any opportunity to interact better with each other, while learning. As an art student, Rene thought it would be nice to paint sidewalks and playgrounds but did not know how to really go about the design work. Rene decided to overhaul the local school's outdoor area using stencils and paint from Fit and Fun Playscapes.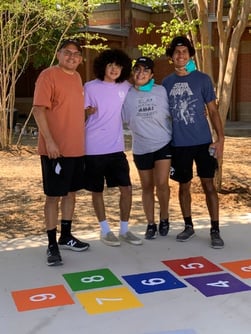 Rene and his father, Ricardo, organized teams of volunteers and consulted medical professionals about how to maintain strict health standards during the COVID-19 pandemic. They required a health screening from volunteers, scheduled cohorts of fellow scouts, family, and friends in to 2 different cohorts with masks on, stood 30 feet apart, and sanitized shared supplies between the cohorts.
Rene says that the project helped him show leadership because he had to put his project plan together in the middle of a pandemic and that he had to supervise different groups of fellow Scouts and adults. Rene said it was hard to manage the group because adults sometimes have their own way of doing things and do not want to take orders from a teenager. Rene's spirits were boosted by the project, knowing that he was helping kids in need, providing a sense of meaning, focus and purpose in a challenging time and working alongside fellow Scouts in a safe, organized manner. The project recaptured his sense of community and worked like a bridge over the social barriers that he, and many local kids, were facing during lockdown measures. He too is awaiting the school to be open so that the returning students can benefit from their use.
"We Belong Here" Equity Walk – Takoma Park, Maryland
Using our reusable playground stencils, the City of Takoma Park in Maryland created an "Equity Walk," which is "designed to challenge users to explore Equity by examining who we are and what makes us feel valued and included. By talking with others, we learn and appreciate their need to be valued and included. The overarching theme of individual worth is central to a community where everyone belongs."
The Takoma Park Equity Walk is an amazing example of all the incredible creations our Reusable Stencils can be used for. The walk, which intersects at several local community centers, can be used by parents and children and followed along by QR code to explore the qualities of equity while also participating in active play. The stations, which are ringed around the local community center, each present a thought question and fitness activity. Parents can use their cell phone to scan the QR code present at each station to participate in the walk.
Discussions on School Re-Entry: A Candid Talk About Student Physical Activity, Wellness and Emotional Concerns Zoom Meeting
On August 13, 2020, after months of preparation, Fit and Fun Playscapes hosted a webinar about school re-entry guidelines with the help of some expert friends. With all of the (at the time) brand-new COVID restrictions, we thought it would be a great opportunity to provide educators with tips and guidelines from experts in several different fields about how to best return to school safely and effectively.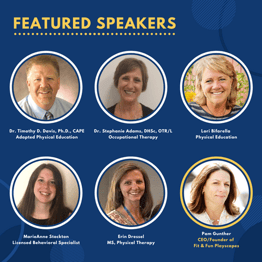 The planned hour-long webinar consisted of ten-minute sections for each of our five presenters, plus a 10-minute segment at the end for questions from the audience. Some of these questions were submitted prior to the webinar, while others were taken live.
The event ended up going over the two-hour mark as educators from across the country piled into the webinar, eager to ask our presenters questions. We dedicated an entire blog post to covering some of the best questions that were asked, but many more were sent out in a follow-up email to the dozens of educators who attended the webinar.
All in all, we vastly underestimated how many folks would attend – a good problem to have – but felt that the webinar came out fantastically. The entire webinar can be found on our YouTube channel for any curious folks who would like to see how it went. We currently have more webinars planned for 2021.
Active Sidewalks, a.k.a. Chalk the Walk, Fitness Trails, Activity Circuits, etc., became extremely popular this past spring with the COVID pandemic – although Active Sidewalks, by whatever name they might take, have been around for decades. With everyone staying at home due to the COVID-19 pandemic and finding this new normal increasingly challenging to stay fit or become fit, Active Sidewalks took on new dimensions at school and at home.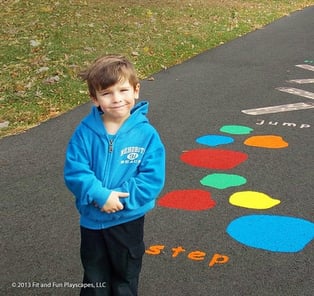 Active Sidewalks, defined as a series of movements and patterns that work gross motor and sensory skills, became a way that children, be they at school or in their community, could maintain both physical activity and social distance while also being around other children. Active Sidewalks also created fantastic opportunities for community events and togetherness across the country, be they in playgrounds, on sidewalks connecting two destinations, bus stops, public parks, schools, community centers, etc.
To respond to this need and the interest expressed to us by our community, Fit and Fun put together several blog posts, as well as a ton of resources, to help schools and/or communities create Active Sidewalks where available. We also put together a blog post regarding what type of paint is best to use for specific projects, whether temporary or permanent.
PEOPLE
As always, there are too many folks to thank this year for all their help – we could write a blog post in of itself for that! With that being said, there are a few folks who have gone above and beyond for Fit and Fun Playscapes this year:
Tim Davis, Ph.D, CAPE
Alexis Abdo-Davis
Stephanie Adams, DHSc, OTR/L-OT
Lori Bifarella, PE Teacher, Attica Central School District
MarieAnne Stockton, Licensed Behavioral Specialist
Erin Dressel, MS, PT
Flaghouse
NYS AHPERD members and staff
NEW FRONTIERS
Fit and Fun Playscapes Goes International!
Fit and Fun Playscapes finally brought its products to the international scene this year, despite the ongoing pandemic. We have toyed with this idea for years, but never had the time to be able to actually convert our wishes into reality. When the pandemic hit, and many schools shut down and went online, we were able to take the time normally devoted to those schools and convert them to setting up an international presence using a well-known International Ordering Affiliate.
We currently ship to five countries – Canada, Australia, Ireland, Scotland, and the UK – and plan on expanding into many more markets over the next year.
PROMOTIONS AND GIVEAWAYS
Fit and Fun Playscapes has always prided itself on charity – having given away hundreds of thousands of dollars worth of items and need-based discounts just in 2020 alone – so we were especially glad to provide tons of giveaways during the early months of the pandemic when educators needed it the most.
Fit and Fun Playscapes Teacher Appreciation Week Giveaway
In late April, we ran our annual Teacher Appreciation Week giveaway to celebrate educators nationwide, but with a little extra this year because of the pandemic. We gave away nearly $700 worth of items for this year's giveaway – including a set of 10 Roll-Out Activities®, a Super Stickers® Activity Station, and a $50 gift card – to the three winners of the giveaway.
In all, we received hundreds of entries, but ultimately just one winner – Meghan Richard – was randomly selected as the winner!
Fit and Fun Playscapes #StrikeAYogaPose Giveaway
Based on the success of our Teacher Appreciation Week Giveaway, we ran another giveaway – the #StrikeAYogaPose Giveaway – in June. This particular giveaway was designed to correlate with International Yoga Day, and, just like the Teacher Appreciation Week Giveaway, we got a ton of entries. Our grand prize was a FULL Yoga Poses Reusable Stencil Set – a $695 value – in addition to a Tree Pose Super Stickers® set and a gift card.
CONCLUSION
This year has been a true test for people across the planet. Being so heavily embedded in the education world, we saw the anxiety that educators experienced first-hand as they grappled with a global pandemic and the ramifications of trying to move an entire year's in-person lesson plan online. We did our best to try and support those educators, but ultimately, it is those folks who deserve all the credit. At a time when we, and our children, needed them the most, they rallied and stepped up to the impossible task asked of them.
We owe everything to those educators, and hope 2021 and beyond brings brighter days.